CONFERENCE ON MALE MICROPIGMENTATION 2021
We are pleased to invite everyone whose intention is to become leaders of micropigmentation to the 2nd conference of The World Of Micropigmentation series, which will take place in spring 2021. The first conference exceeded our expectations. We focused on micropigmentation treatments for men and it was a hit! The male micropigmentation market is developing extremely dynamically in Poland, throughout Europe and actually all over the world.
Poland is among the leaders of scalp micropigmentation in the world. Agnieszka Zapała, the founder of the Mikro Hair brand, has twice been awarded as one of the best SMP specialists on an international scale during the world`s largest event devoted exclusively to scalp micropigmentation - The Meeting of Minds. Last year, our company was nominated for the award in the category "The Best SMP Training Program Provider". This year Agnieszka has again been nominated for the award in the category "The Best SMP Practicioner International. Moreover, Wojciech Gajda has also been nominated for the same award. Wojciech is a member of our Mikro Hair team and he was introduced by Agnieszka to the world of male micropigmentation many years ago. It is a huge distinction for us! We are proud that we can represent our country abroad among such outstanding specialists. We are also proud of our students - Ania Paterak (UK) and Monika Osińska (Sweden), who were nominated for the Rising Star category last year, and this year will compete for the prize for the best SMP specialist.
Observing global trends, we are deeply convinced that men`s micropigmentation will soon dominate the market. Men are a huge target group. Do you know that over 70% of men are balding? Do you know that the hair transplant market is rapidly growing every year, which means an increasing number of customers who need camouflage of scars and rare hair to be thickened so that the effects of the transplant can be satisfactory? Do you know that about 10% of men suffer from atrophy of eyebrows and eyelashes? Some men are born with cleft lip or palate, others suffer from alopecia areata or scarring alopecia. They have accident and burn scars on their heads. Have you ever heard about trichotillomania? Do you know how many men suffer from herpes that lighten their lips? Some men are also annoyed by Fordyce spots, lack of facial hair, vitiligo spots or need to reproduce or correct the shape or color of the chest nipples after gynecomastia. They face different types of scars. Or they can also need to restore their nails after amputation of the distal finger phalanx.
Were you aware that by focusing only on women you miss such a gigantic target audience of customers? That's why we have decided that this year`s conference will continue the subject of male micropigmentation. However, this will be in-depth knowledge. We will focus on the medical aspects of male micropigmentation. We will analyze the most difficult cases.
We invite you to the 2nd edition of The World of Micropigmentation conference - Medical Aspects of Man`s World! Thanks to the previous conference, meeting with such a wide group of practitioners, we understand the needs of the male micropigmentation industry even better. We would like to meet with you, share our practical knowledge and passion. The market is ready to take the next step. Time for medical pigmentation. We want you to grow with us.
It will be substantive, it will be medical, it will be practically, it will be enriching - just humanly, because working with difficult cases gives us determination and makes work take on another dimension. It will be conference with passion. As always. We will surround you with attention from A to Z, as always. Your  development is our development.
Why is it worth attending the conference? You will:
• expand your capabilities with a new field of micropigmentation,
• see how the best in the industry work, take advantage of their experience,
• broaden knowledge in the field of micropigmentation and running a business,
• learn how to succeed in the micropigmentation industry,
• talk to those who are successful,
• have new development opportunities, enjoy the fact that we are developing and at the same time have new tools to earn money,
• talk about problems and how to solve them.
 
Only those who know how to do it can succeed.
CONFERENCE DATE: spring 2021
Tickets sale soon!
ABOUT THE CONFERENCE
The World Of Micropigmentation is the first conference in the world with such a practical character. At the 2 nd conference we will continue focusing on male micropigmentation. We want to help everyone who wants to enter this world and those who already participate in it. We want to show how to succeed in this market.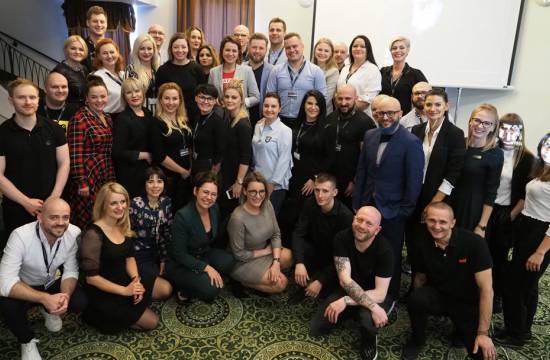 THE WORLD OF MICROPIGMENTATION  CONFERENCE 2019
First in Poland and in the world conference on male micropigmentation is already behind us. The conference was entirely dedicated to male micropigmentation procedures: scalp micropigmentation, facial hair micropigmentation, eyelids, eyebrows, mouth pigmentation and scars' camouflage after hair transplant surgeries.
SEE MORE